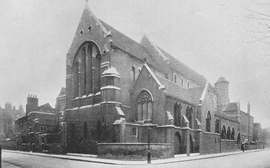 St Mary's was established as a parish in 1798 by Abbé Jean Nicholas Voyaux de Franous, a refugee from the French Revolution. The first building, a chapel, was completed in 1812 on land now occupied by a block of flats in Cadogan Gardens, Chelsea.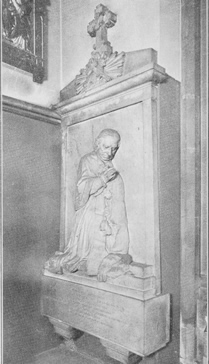 The current church was designed by John Francis Bentley, who was later to design Westminster Cathedral, and opened in May 1879. It incorporates an old cemetery chapel designed by Augustus Welby Pugin in 1845 (and now dedicated to St Thomas More), a side chapel designed by Edward Pugin for the old chapel and dismantled and rebuilt in the current church as the Sacred Heart Chapel, together with the original high altar, pulpit (by Bentley) and baptismal font.
The Church was consecrated by
Cardinal Manning on 12th June 1882.
Click to see a list of Incumbents at St Mary's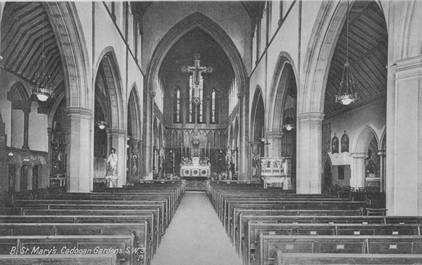 These pictures show the original nave and altar layout as designed by Bentley.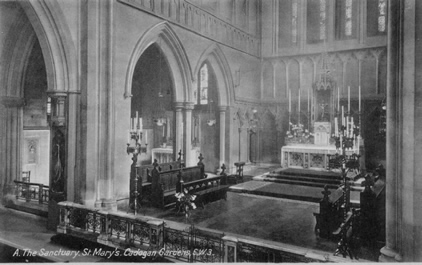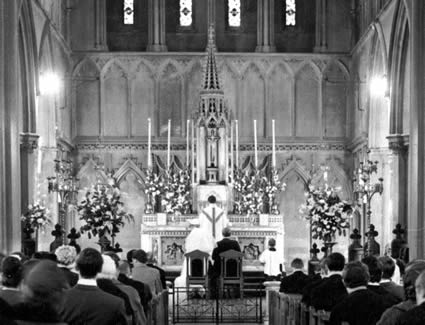 Here is a closeup
of the original
High Altar
in place and
in full use at a
Nuptial Mass

(My thanks to
Eileen & Ron Gee
for the use of this photo)
The Church was later re-ordered to reflect what were then perceived to be changes required following the Second Vatican Council in the 1960s.